UPDATE 5/13: We are now seeing patients in the office and able to move forward with your individualized treatment plan. We will continue to use TeleHealth for medically compromised patients and those at high risk.
Rest assured, your safety is of upmost importance to us, and we are taking precautions such as: wearing appropriate PPE, taking temperatures, asking questions, and asking that our patients also wear a mask during your appointment.
We look forward to seeing you again. We have missed our patient face to face interaction.
We have partnered with OTTOHEALTH to provide video visits with our patients. Please watch for your invite.
Have an existing Telemedicine appointment? Please click on the link provided in your email or text confirmation.
Want to request an appointment online? Fill out this form and we will contact you via email.
A quick message from Dr. Gordon:
Telemedicine
If you have been diagnosed with Coronavirus, or are experiencing symptoms of the disease, here you will find information on how to consult with your provider through our Telemedicine platform. This Telemedicine platform utilizes internet-based videoconferencing, so that patients can meet with their providers virtually. To take advantage of this capability, here is what you should know:
Telemedicine is not for medical emergencies. Please call 911 or go to the nearest emergency room if you feel you are experiencing any of the following emergency medical problems:

Chest pain or pressure
Uncontrolled bleeding
Coughing / vomiting blood
Difficulty breathing or shortness of breath
Sudden dizziness, weakness, change in vision, slurred speech, or other neurological changes
Severe or persistent vomiting or diarrhea
Changes in mental status, such as confusion

To meet with your provider using our Telemedicine platform, you will need to have a regularly scheduled appointment. If you do not already have one, you can easily request one online by clicking the "Request an Appointment" button, found at the top of this page. Alternatively, you can also call us at (318) 323-6405 to arrange one.
In advance of your appointment, be sure you have access to an internet-enabled computer or smartphone that has video capabilities. Using the Chrome web browser is recommended. Internet Explorer and Edge are not supported at this time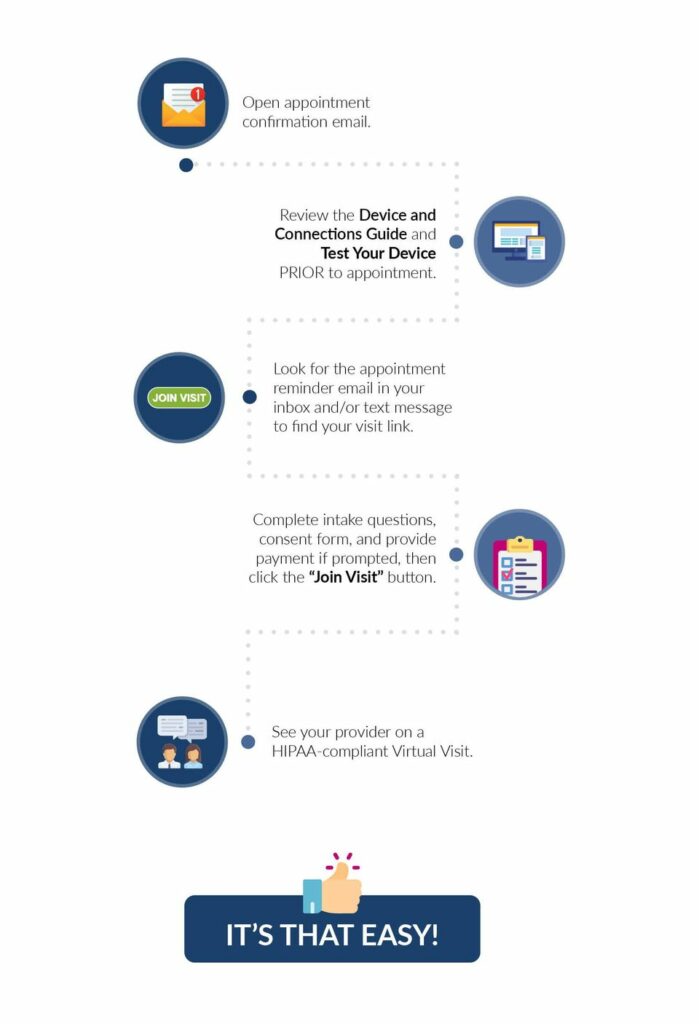 To learn more about supported browsers and devices, check out the Device and Connection Guide.
Test Your Device
Have you checked your phone, computer or tablet for Virtual Visit compatibility? We highly recommend doing so before your first visit to avoid any technical snags at the time of your visit. CLICK HERE to test your device setup.